ePIcenter - Enhanced Physical Internet-Compatible Earth-friendly freight Transportation answer
The ePIcenter project unites 36 partners (port authorities, logistic service providers, manufacturers, academic institutions, technology partners, …) throughout Europe and beyond to develop and test AI driven logistic software solutions, new transport technologies and supporting methodologies to increase the efficiency of global supply chains and reduce their environmental impact.
Short information
Project period: June 2020 - November 2023
Funding programme: The project is co-financed by the European Union from the Horizon 2020 programme, under the heading H2020-EU.3.4 Societal Challenges - Smart, Green and Integrated Transport.
Project budget: EUR 6,85 million, 100 % funding
Project focus:
The first aspect is visibility, making the supply chains or logistic processes more transparent through cyber secure data exchange and sharing.
The second aspect is optimisation, using new data and emerging technologies in a smart way, developing AI algorithms and simulation techniques that can optimise the real-life logistics and synchromodal planning processes end users are facing daily.
Project partners and associated partners
The project consortium consists of 36 partners from 18 different countries (including Germany, Belgium, Sweden and Spain) and brings together scientific and economic actors.
Project partners:
Logistik-Initiative Hamburg, DE
Port of Antwerp, BE (Projektkoordinator)
DHL Management Ltd., CH
Panasonic Business Support Europe GmbH, DE
AstaZero AB, SE
Stena Rederi AB, SE
Autoridad Portuaria de la Bahía de Algeciras, ES
Total Terminal International Algeciras Sa, ES
To-be-now-logistics-research-gmbh, DE
Duisburger Hafen Aktiengesellschaft, DE
Anheuser-Busch Inbev, BE
Aker Arctic Technology Oy, FI
MJC2 Limited, UK
GVZ Entwicklungsgesellschaft Wolfsburg mbH, DE
Einride AB, SE
TIS Pt, Consultores Em Transportes, Inovacao E Sistemas, PT
Effective Seaborne Engineering Solutions, S.L., ES
Vilniaus Gedimino Technikos Universitetas, LT
AKCIJU Sabiedriba Transporta un Sakaru Instituts, LV
Instytut Morski w Gdansku, PL
NxtPort, BE
Heriot-Watt University, UK
Balance Technology Consulting GmbH, DE
Bremer Institut fuer Produktion und Logistik GmbH, DE
Hochschule Emden/Leer, DE
Den Hartogh Holding B.V., NL
Logit One NV, BE
Universidad de La Sabana, CO
Polskie Koleje Panstwowe Spolka Akcyjna, PL
Uprava Pomorske Sigurnosti i Upravljanja Lukama, ME
Universite Laval, CA
Shandong University, CN
Beijing Trans Eurasia International Logistics Ltd, CN
Blockchain In Transport Alliance (BiTA), US
Port Montreal, CA
University of Victoria, AU
The Logistics Initiative Hamburg plays a supporting role in the project by involving external stakeholders, critically examining the developed toolsets with regard to their applicability and market acceptance, supporting the dissemination of project results and sharing its experience and knowledge from completed projects with the project partners.
Project contents & objectives
The core objective of the ePIcenter project is to develop and test AI-driven logistics software solutions, new transportation technologies and supporting methodologies to increase the efficiency of global supply chains and reduce their environmental impact. To this end, the project focuses on the following key areas:
Visibility & Collaboration
End-to-end visibility has become the one of top 3 strategic objectives of supply chain management. Yet only 6% of the firms have complete visibility (GEODIS, Supply Chain Worldwide Survey, 2017). The ePIcenter project works on all 'aspects' of visibility. It demonstrates technological solutions to create end-to-end visibility of supply chains and establishes strong governance rules that offer stakeholders security and control over their own data.
Optimisation, Technology & Efficiency
"Digitisation will have the impact on supply chains that steam and electricity had on manufacturing" (J. Terino, Bain & Company, The Economist, Jun 11th 2019). To increase the efficiency of supply chains and reduce their environmental impact, supply chain processes and operations need to be optimised. The ePIcenter project develops AI algorithms and logistics optimisation and simulation software that enable the end-to-end optimisation of logistics processes.
Applications
The ePIcenter applications represent actual solutions for real life challenges the industry is facing. To trial and test the ePIcenter solutions in real life conditions, 13 end-users are involved, representing major logistics and supply chain organizations. Partners collaborating in these demos are: AB Inbev, Den Hartogh, DHL, Beijing Trans Eurasia International, PKP (Polish rail operator), Panasonic, Volkswagen's daughter logistics company GVZe, Astazero, STENA, Port of Algeciras, Port of Antwerp, Port of Montreal, Duisport.
ePIcenter Infographic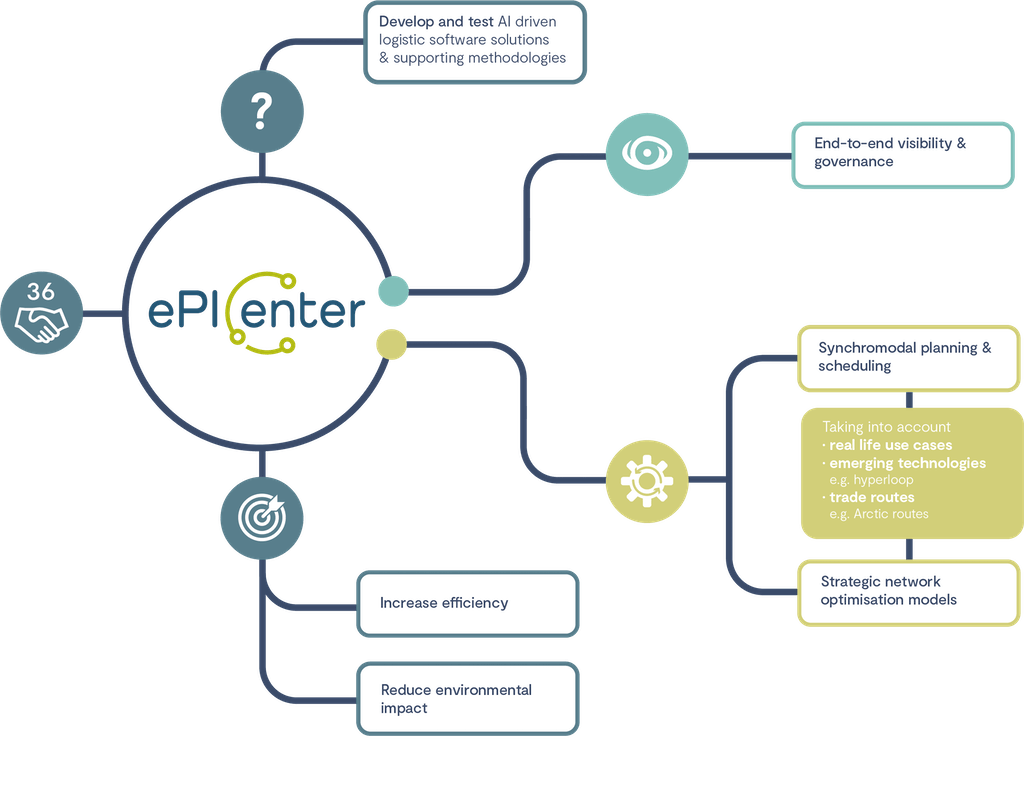 Project results
The project is not yet completed. Project results will be published here after completion of the project.
Interim results and project content such as presentations, conference papers or videos can be found here.
You are active in the field of AI, automation and cloud-based systems, have questions on the topic or would like to implement or discuss a project idea in this area together with our network? Then you are welcome to contact us!